Using Lunch Money as your multi currency budget app means you get to track expenses in every dollar, euro, and yen spent — and see it all add up in your primary currency of choice!
Who's it for?
Lunch Money is the user-friendly, multi currency tracker for digital nomads, expats, freelancers, travelers — anyone who deals with more than one currency. Tracking cross-border expenses should, and can be easy!
The train ticket in euros, the rent in yen, the pension plan you're saving in USD, it all makes sense when you see it in your currency of choice, all in one place.
The perfect tool for managing accounts and transactions in multiple currencies! Lunch Money made managing finances while living abroad so much easier!
Dan, budgeting from the UK
No more switching between bank accounts or doing manual conversions. Lunch Money is the multi currency budget app that does it all, and presents it a clear, user-friendly way.
Invest in Crypto? Lunch Money is also a crypto portfolio tracker — users can see crypto portfolio holdings alongside their traditional investments, all converted to the same currency.
Multicurrency is seamless! I have business and personal accounts on both sides of the border, and Lunch Money handled them without a sweat!
Graeme, budgeting from USA & CAN
How does it work?
Follow this two-step process to use the multi currency budget app:
1. Select your home currency from over 90 supported currencies.
Managing life in different countries? No worries, you can change your home currency at any time.
2. Choose which currencies you'd like to track expenses in.
Don't see your currency supported? Simply let us know and we'll work on adding it!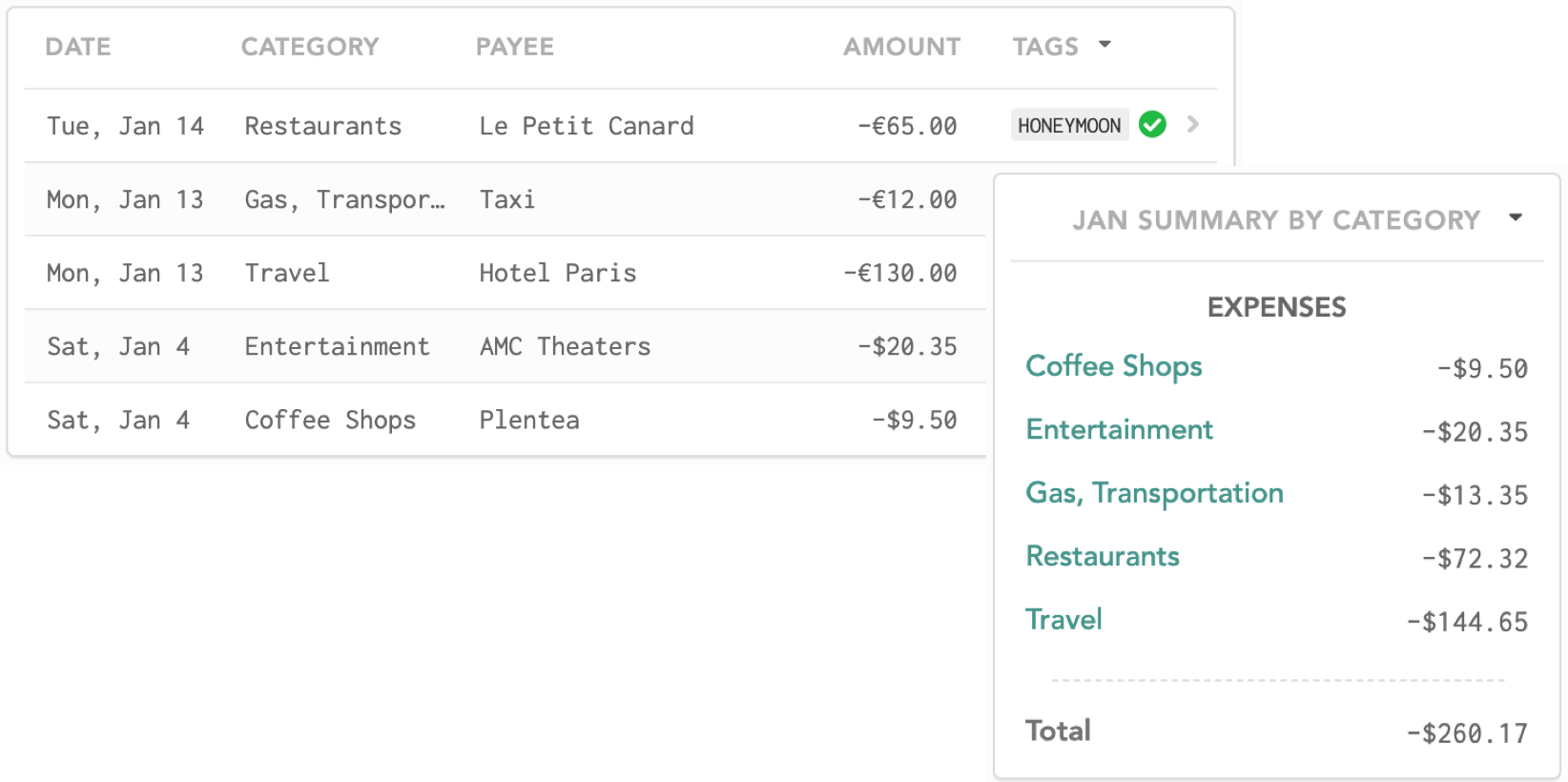 One feature that has been a lifesaver for us is the multi currency support… This is really big for us because even though Canada's our home, we are living in Taiwan right now, visiting family, and a lot of the work we do is done in US dollars.
Janice Kwan and Terence Lee
Self-employed, music and video games
budgeting from Taiwan
What exchange rate is Lunch Money using?
We use the exchange rate based on the date of your transaction so conversions are as accurate as possible!