Multicurrency support in Lunch Money has been taken to a whole new level! Connect your crypto accounts so you can track your holdings alongside other assets for a more accurate summary of your finances.
The modern-day spender and crypto
Lunch Money is built for the modern-day spender, so supporting cryptocurrency is a no-brainer. Whether you're an active Bitcoin trader or you're holding onto some tokens in hopes it'll skyrocket in the near or far future, we've got your back with a built-in crypto portfolio tracker.
Getting started is as easy as connecting to a cryptocurrency exchange, wallet, protocol or account via Lunch Money! From then on, you will have access to up-to-date balances in the primary currency of your choice.
What integrations are supported?
We've partnered with Zabo to track your crypto holdings from nearly 30 different integrations. Link your Lunch Money to any of the popular crypto exchanges, including Coinbase, Kraken, and Binance. You can also connect directly to exchanges like Bitcoin and Ethereum, as well as crypto wallets (Metamask, TrustWallet) including hardware wallets (Trezor, Ledger).
USD, BTC and ETH - together
You decide which coins to track in Lunch Money. These are now treated as accounts and you'll see their balances contribute to your net worth.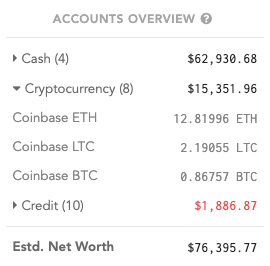 Balances will be updated at least once a day, but you can always trigger a manual refetch at any time.

How to get started
Lunch Money offers a free, no-obligation 14-day trial so you can have enough time to figure out if this is the right tool for you to achieve your personal financial goals. Get started by registering below!
If you have any questions or feedback to share, feel free to email [email protected].